Help me build Mobile tool Habitat.. Ambo rescue rig?
Posted: Fri Sep 08, 2017 7:03 pm
Purchased an 18 foot flat bed Tandem axle trailer with pintle hitch. No deck installed. Wheels BELOW deck height. Will be pulling it when needed with an LMTV1078 (my ambo expo rig posted about in here.)
So I've not had a garage since Gulp.. 2004. Had that about 2 years. Before that........ never had a garage... not even as a kid. Had a 20foot container for a while I sorta planned for use as a shop butttt the economy tanked... and life crashed. Moved and had to leave it behind.
Anyway all along I've collected and inherited tools... used them in my Jeep or Unimog with onboard air or air tank etc. Wood tools, mechanic tools etc.. Right now they are stuffed into a 6x10 shed space haphazardly along with Mower, books, stuff and a motorcycle (for sell Yamaha XT550... replaced it with KLR Diesel non military)
So now.. life has grown back to near normal.. a shop is in future.... till then...... above trailer will get a 12 foot moving box on it as the "Tool Habitat".
Help me set it up ye masters of all things "Shop"
Here is some points in decision making
. Live in Southern OH.. there is snow but not much.
. Ground here SUCKS. Lot of clay-ish material, Gets muddy. Things sink in when sitting. Tires spin on grass and slippy terrafirma below.
. Plan to install poor mans awnings (Tarp made) wth screen and/or tarp walls as well.
.... Set up like a camper. Put out awning with or without screen/tarp walled room when doing projects outside. Fold away when not. Lots of citronella candles to fight Mosquitoes.
.... one Screen Tarp room will go off back over what ever remaining portion of bed exist (that area to get decked) and other off passenger side to work under. This side one goes all way to ground level .
.... did you know they make stick on zippers you can make door openings with in Tarps. Will use these.
. Plan to build Shipping container shop in 2 years or so. Either two Containers and roof between along with big sliding barn doors on each end...
..... or one container; with open side having pole barn walls (and a door?). Again sliding Barn doors both ends.
. Thought is to park this tool Habitat as tight to far end of above as possible if go two container shop.. or on walled side if just one container. Appropriate doors installed to keeps access to tools in habitat.
. Tools storage always in Tool Habitat on trailer rather garage/shop is built or not.
.... Won't have to dedicate as much of the garage/shop floor space to tool storage is one thought behind that. As well as:
....... will allow me to be mobile to rescue my own Fubared car or Motorcycle
....... will allow me to be mobile with tools to pay back the world for all the help others have given me over the years. And for remodeling at my job which seems to happen yearly. Will help me remain a valuable asset to the company. AKA...... job security
. Box (tool habitat) going on trailer has doors in back like a shipping container.
. Here is the kicker...... this Habitat on passenger side has more doors like a shipping container as well...... the whole side opens up. pretty much all 12 feet of it. They are two near 6 foot doors but each is hinged in middle as well
.... awesome.... but is it?
kinda like this one.... with two full set of doors instead of three and no cab over portion.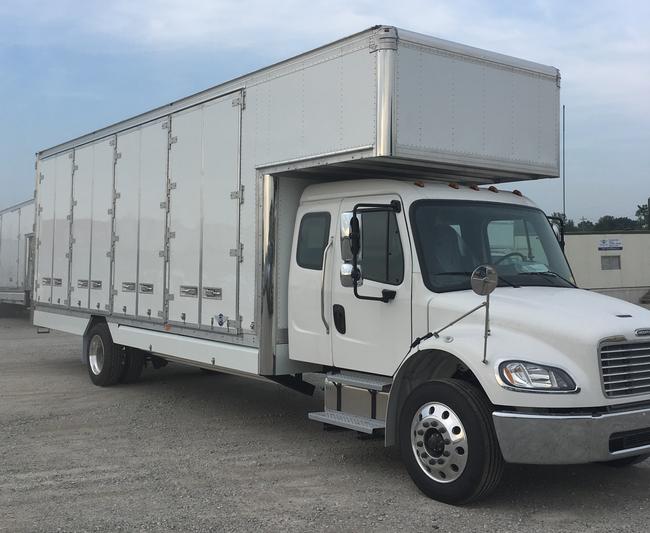 ........ would mean only one wall; driver side, can be dedicated to storage, permanent shop tables etc. without blocking some or all of a door.
........ arranged mostly on one side would put the whole thing heavy on one side if minimally block doors. hmmm... not good?
........ will help a little by putting the 5000 watt 110/220v air cooled diesel GenSet and Medium size Air compressor on tongue. (non silent type so will need "silencing")
....... GenSet removable so can be installed on Expo Truck as well. Multi purpose fits my budget best.
Things to put in Tool Habitat.
...... Drill press (harbor Freight like) Got 220V wire feed welder. Air tools, 110v tools ... no table saw yet. tons of miscellaneous nuts and bolts and other hardware etc. halogen Shop lights, one cheap ass tool drawer cabinet. multitude of metric and SAE wrenches, left / right hand screw drivers, hex and stars drivers, Ornamental Tube bender, Pipe Bender (that weighs a ton) etc etc etc.
Sooooooo. what do you thimk?
? What doors to block (or not)
? mount box full to rear or full to front... or leave some extra space in front or? (Yeah weight distribution is part of this)
? best use of space? what tools near what? what can be in a cabinet and what should always be accessible etc.
? ideas of storing nuts and bolts organized... and not bouncing out all over the floor while in transport etc.